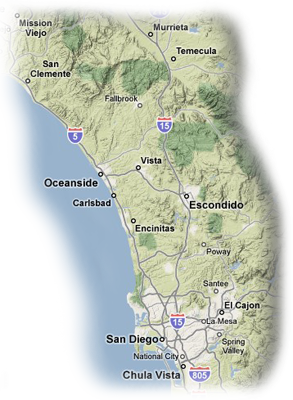 SAN DIEGO COUNTY
Bookkeeping, Incorporating and
QuickBooks Training for Small Business
Melissa's Bookkeeping services all of San Diego County. San Diego to Fallbrook and from the coastal communities of Del Mar, Encinitas, Cardiff by the Sea, La Costa, La Jolla, Solana Beach, Carlsbad and Oceanside. Melissa's Bookkeeping Services also services the areas of Rancho Santa Fe, San Marcos, Vista, Rancho Penasquitos, Escondido, Rancho Bernardo, Carmel Mt. Ranch, Poway, Scripps Ranch and Tierrasanta .



Your Business Is As Unique As You Are and You Should Be Treated In A Unique Way.
That is why Melissa's Bookkeeping is referred to as
San Diego County's Affordable, Personalized,
Small Business Bookkeeping Service
Specializing In The Needs of Small Business, Home Based Business, And Non-Profit
San Diego Companies.
More Practical And Affordable Than An Accountant!



Five Ways To Cut Bookkeeping Costs:

There Are A Number Of Ways You Can Cut Down Costs Associated With
Bookkeeping Services.
Here's How To Get A Bookkeeper:

Provide Complete and Accurate Information. Finding missing information and correcting mistakes costs time (and results in additional hours billed).

Maintain Financial Records on a Computer. Bookkeepers have to spend time
(and your money) inputting handwritten records to their computer software.

Keep Written Records Neat and Orderly. Having to decipher figures takes time
and leads to mistakes.

Learn As Much About Bookkeeping As You Can. Not only will this enable you to
do some of the work yourself (saving money), it will also facilitate conversations you
have with bookkeepers.

Don't Overbuy. Y ou won't need a CPA (Certified Public Accountant) if you have a
small company and need only to have someone pay salaries and bills and reconcile
your monthly bank statements.